XPT Was Awarded the TÜV SÜD ISO 26262: 2018 Functional Safety Process Certificate
On November 17 in Shanghai, China, XPT (Nanjing) E-Powertrain Technology Co., Ltd. (hereinafter referred to as "XPT") was awarded the ISO 26262: 2018 Functional Safety Process Certificate by TÜV SÜD AG (hereinafter referred to as "TÜV SÜD"), a global authoritative third-party testing and certification organization. Alan Zeng, CEO of XPT, and Jianjun Sun, Senior Vice President of TÜV SÜD Greater China, among others, were present at the certificate awarding ceremony. The award of this certificate indicates that XPT has possessed the product development process system and development capability that live up to the highest automobile functional safety level (ASIL D).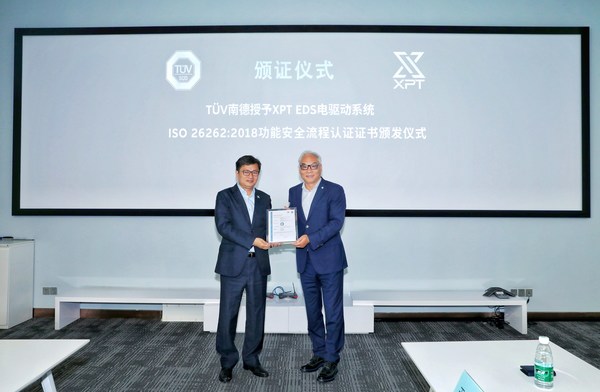 Practice safety commitments on the strength of internationally authoritative professionalism
With the help of TÜV SÜD's Functional Safety Expert Team, XPT has not only established a project management and development team with functional safety engineer qualification, but also set up a product development process system that meets the ASIL D level under ISO 26262: 2018 and can be applied by the relevant functional safety project development team.
Function Safety
What is Function Safety? The so-called "Function Safety" is the general term of technologies used to avoid inadmissible functional risks through safety functions and measures. The "Function" in Function Safety means the function of safety devices used to monitor controlled objects and controllers. We usually take computer as a safety device. If the controller fails, the computer will shut down the controlled object and send a danger warning to the user. The function safety realized by safety devices is called "Function Safety". Function Safety can be regarded as a safety measure designed through the use of computer and other safety devices.
In Europe and the United States, a full range of Function Safety related product directives and design standards has been enacted and widely used in various fields, such as nuclear power industry, petroleum, chemical industry, power plant and other process industries, industrial machinery, elevator and escalator, intelligent grid, home appliance software evaluation, automobile industry, and medical software evaluation.
ISO 26262
ISO 26262 is a Function Safety Standard for automobile electronics, also known as a global standard formulated by the International Organization for Standardization in 2011 and revised in December 2018. This standard covers activities related to Function Safety management, concept stage design, and system, hardware, software design and production in the safety life cycle of automobile products. Through the guiding effect of standard technical specifications, this standard aims to effectively avoid and control system failure and random hardware failure, so as to help automobile product manufacturers reduce the product liability risk to an acceptable level. At present, ISO 26262 has become one of the industry-recognized compliance access barriers.
Automobile Safety Integrity Level (ASIL)
In ISO 26262, ASIL is an indicator of hazardous risk level.
ASIL consists of four levels: A, B, C and D where A represents the lowest level and D the highest level. The ASIL levels represent the requirements for system security. The higher the ASIL level, the higher the requirements for system security, the higher the cost to achieve security, the higher the diagnostic coverage of hardware, the stricter the development process, the higher the corresponding development cost, the longer the development cycle, and the stricter the technical requirements.
XPT Empowers Intelligent Transportation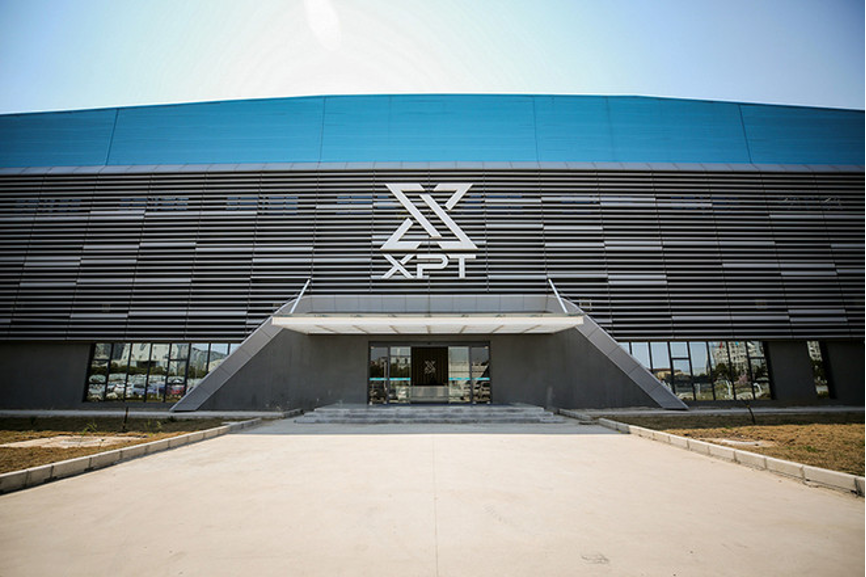 XPT, founded in 2015, is a technology company dedicated to providing intelligent power solutions. Boasting outstanding technological innovation strength and advanced manufacturing capacity, adhering to user-oriented approaches, XPT is committed to creating intelligent electric power platforms and providing clients with more environmental friendly, efficient and safe solutions.
XPT provides integrated EDS, which integrate high-performance motor, gearbox and PEU. The integration of high power, high torque and high speed brings users a combination of extreme speed and strong power. XPT has world-class production strength. Relying on its unique locational advantages in Yangtze River Delta, XPT has formed a one-line and multi-point manufacturing distribution in Nanjing, Shanghai and Hefei. It connects the beautiful vision and foresight with the reality through advanced manufacturing, brings systematic efficiency into full play, and combines highly automated production with top technology, bringing high-performance core parts to clients.
According to the installation actual data released by the Ministry of Industry and Information Technology, XPT ranked among the top 10 Chinese EDS manufacturers in 2019 with more than 40,000 units, and ranked first in the market of high-power EDS of 150kW and above. In the EDS installation actual data rankings from January to October of 2020, XPT stayed among the domestic top three and achieved a total installed capacity of more than 60,000 units.
XPT will develop more EDS and related products to meet the boosting demand of China's new energy vehicle industry for the electric powertrain products.